Project Location: Tufts Medical Center - Boston, MA
Project Completion Date: January 2017
Size: 15,000 sf Renovation
Photo Credit: Anton Grassl
Project Description:
The Neely House was established in 1997 within Tufts Medical Center in Boston to provide a unique setting for cancer patients and their families meant to be a home away from home. The Neely House was created to fill an important need; to ease the burden of cancer patients traveling for treatment by providing a place to stay for them and their families while undergoing cancer treatments. By staying within the hospital while undergoing treatment, patients, referred to as "guests" at the Neely House, can remain close to care providers and interact with other patients and their families who are going through similar struggles.
By forming a true partnership with the client and through generous donations, the design team was able to enhance the services of the Neely House through a variety of new amenities. A quiet room is reserved for alone time or private conversation. A resource room provides computers and flexible seating. A media room, affectionately called the "Bruins Den", reflects the Neely Foundation's affiliation with the Boston Bruins and features the team's colors and memorabilia. The Bruins Den is acoustically separated from other spaces, and includes stepped reclining seating and a large screen for a mini movie theater experience. Other shared amenities include common laundry, kitchens, dining rooms and living rooms to encourage homelike activities for guests and their families to use during their stay. The new space provides patients and their families comfort and serenity as they battle such a terrible disease.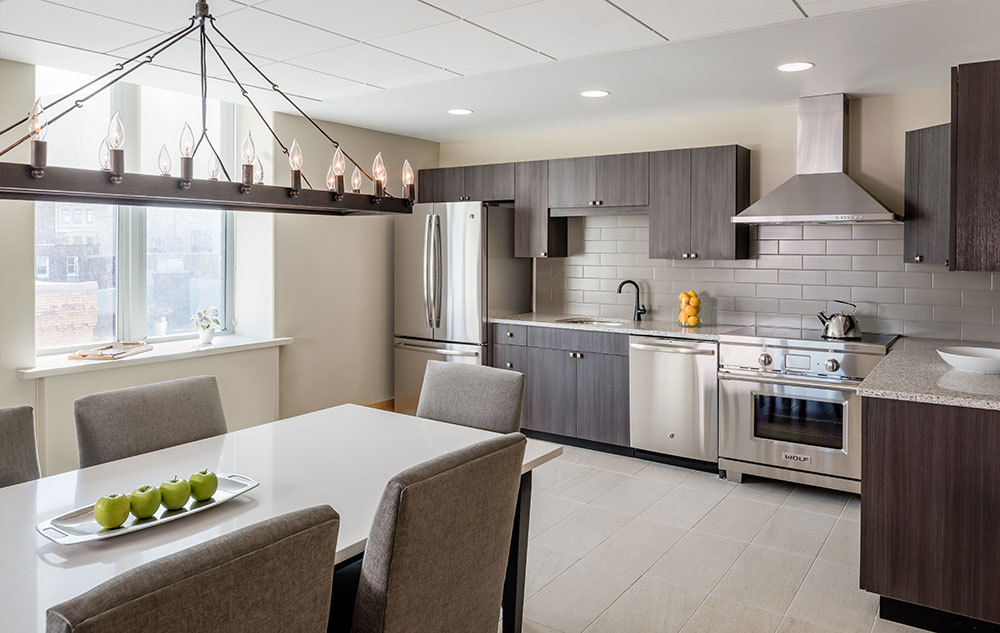 Awards and Publications about The Neely House:
The Neely House renovation is featured on Behind the B: Season 4 Episode 9, that aired on February 14, 2017